PRINCIPAL'S WELCOME
I am thrilled to join this wonderful community as the new International School Section Principal of the Korean International School (KIS). This school has a reputation for providing top-quality education, and I feel honoured to be a part of it. I am excited to work with our dedicated faculty and staff to continue to provide an exceptional learning experience for our students.
At KIS, we are committed to fostering a sense of community that extends beyond the classroom. Our school is a place where families, teachers, and students come together to create a supportive and inclusive environment. We believe that a strong community is essential to the success of our students and in helping them become the best possible version of themselves.
In addition to our commitment to the community, we also place a strong emphasis on technology and innovation. We recognise that technology plays a critical role in shaping the future, and we are committed to providing our students with the tools and skills they need to thrive in a rapidly changing world.
Finally, I want to emphasize our dedication to developing future leaders. At KIS, we believe that every student has the potential to make a positive impact on the world. We are committed to providing our students with the resources, support, and guidance they need to reach their full potential and become the leaders of tomorrow.
As we approach our 30th anniversary, I look forward to working with each and every one of you to continue to build a strong, supportive, and innovative community here at KIS.

Mr Daniel Hilton
Principal (International Section)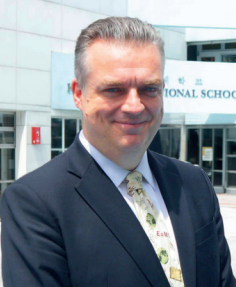 "This school has a reputation for providing top-quality education, and I feel honoured to be a part of it."

Mr Daniel Hilton, Principal